Why you should stay at a hotel in Redditch
2 matched Hotels in Redditch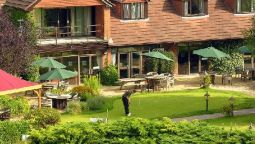 A hotel in Redditch is positioned perfectly for business travellers seeking easy access to a variety of Midland locations while avoiding the bustle of the big city. As the town is located between the M5, M42, and M40, getting to the nearby cities is straightforward and fast. Most notably, Redditch is just 15 miles from Birmingham city centre, and less than 17 miles from Stratford-upon-Avon, the historic home of William Shakespeare.
Redditch itself was first settled in the fourteenth century and has since then grown in economic importance. It is now home to hundreds of small to large companies and enjoys a thriving economy.
What can I enjoy in and around Redditch?
If you are staying in Redditch, make sure to visit Stratford-upon-Avon to see where Shakespeare was born. A famously attractive medieval market town, Stratford-upon-Avon boasts several beautiful old buildings, canals, Tudor gardens, and vineyards to explore. Both Redditch and Stratford have high-class country clubs, which are perfect for networking in a relaxed but elegant environment. If you enjoy a quiet and peaceful walk, there are plenty of opportunities to do this along the charming canal system, which links the entire historic industrial centre of England.
Where can I go for an interesting and relaxing day out?
Birmingham, a city buzzing with sights and activities and just 15 miles north of Redditch, is another must-see location. Here, you can indulge in a shopping trip at the world-famous Bull Ring and enjoy a miscellany of delicious foods from around the world. As a centre of manufacturing and engineering, Birmingham is an area of particular interest for business travellers.
In Redditch itself, you'll find two golf and country clubs, the Arrow Valley Country Park, and the Palace Theatre, as well as various old-style pubs where you can enjoy traditional English 'pub-grub'. All of these attractions are easily accessible from any hotel in Redditch.
Why choose a hotel in Redditch?
Thanks to its links with the rest of England, Redditch is a perfectly located community. It has excellent public transport links to Birmingham, Stratford, and Worcester. A hotel in Redditch is a quiet, calming location that gives business travellers the chance to gather their thoughts after work while not being too far from the centre of business.