Access Lille and Belgium with a Seclin hotel
2 matched Hotels in Seclin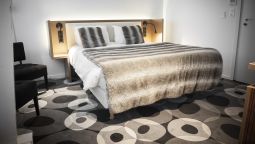 Located close to the border with Belgium and just outside of Lille, Seclin has a strong focus on sustainable development, making it an exciting place to do business. When you book your hotel in Seclin, you'll find a lively commercial centre, a business park and a leafy, historic atmosphere.
What defines Seclin?
Seclin has over a hundred thousand years of history to uncover, and its elegant buildings and lush green spaces are full of fascinating detail. The many archaeological discoveries that have been made here are exhibited at the Archaeological Centre, whilst there is a wealth of great dining options in town, covering a range of international cuisine. For even more historical and gastronomic highlights, Lille is a mere 10 km away.
What can I expect from business life here?
Seclin's UNEXPO business park offers a diverse array of facilities and services for businesses, and is designed to offer enterprises a secure platform for growth. Spread out over eight hectares, the park is devoted to businesses operating in the green or leisure sectors, and also offers its own leisure facilities to enable you to be at your most effective while at work. Seclin is dedicated to sustainable development and has implemented an Agenda 21 plan to balance economic development with the ecological and social interests of the town. This has created new avenues for local businesses to collaborate with municipal bodies and social organisations, resulting in mutually beneficial solutions. As part of the plan, Seclin has introduced the Fund for Activity and trade, which supports companies that engage with sustainable development initiatives. There is also a charter for responsible procurement which privileges sustainable supply chains in the region.
What can I enjoy near to my Seclin hotel?
Business travellers will find a broad range of cultural diversions to enjoy near to their hotel in Seclin. The Matisse Gallery for instance is an exceptional small gallery devoted to the famous French impressionist painter, and changes its shows monthly so that there is always something new to see. Recently, there has been an increasing number of exhibitions focusing on artists based in the area. The Archaeological Centre preserves the pre-historical heritage of the region, with many of the centre's well-presented discoveries dating back to the Middle Palaeolithic era. It is also worth visiting Fort de Seclin, a fascinating and well-preserved fortress.