Herne - Home of the Cranger Kirmes Fair
2 matched Hotels in Herne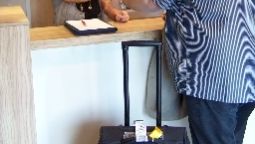 This German town started out as a tiny village just like most other cities in this area. When coal mining and steel production began in the 1800s, the village began to grow into a larger town. Today's city as we know it is the combination of historical Herne, Wanne, and Eickel, all three of these once being farms in the Ruhr area in Germany. This was around the 11th or 12th century. The population increased 20-fold over the next 30 years after the founding of coalmines. This led to the new city status in the early 1900s. The other two small cities were gained in 1975. Many famous Germans have called this place home over the years, including the composer Ralf Linke.
Location: Between Bochum and Gelsenkirchen
Herne is located in the Ruhr area of Germany in North Rhine-Westphalia. It lies directly between the two cities of Gelsenkirchen and Bochum. The city is known for being a very green one with over 4 million square meters of green space in the urban areas alone. Sports grounds, public gardens, and playing areas are almost everywhere you look, attached to restaurants and right out people's backyards. It makes for a beautiful scenery and a way for visitors and residents to take a load off and relax in the beautiful nature that surrounds them.
Culture: Festivals, Castles, and Theatrics
The city is becoming ever important for European youth culture, moving away from its traditional view as a coal mining town. One of the most well-known cultural events here is the Cranger Kirmes, held in August. This fair is one of the largest and most visited in Germany, with over 500 booths and huge amusement rides. Then, at the end of the month, residents celebrate the Boulevardfest, featuring street performers and activities for the whole family. If theatre is your thing, then you will enjoy the seven theatres here that offer unique shows, some from professional and others from amateur players. Don't miss out on the historical attractions, though. Castle Strünkede was once a medieval fortress that was converted into a moated castle in the mid-17th century.
Activities: Fun in the Outdoors and Museums
Being the green city that it is, Herne draws in plenty of outdoorsmen, and for good reason. Cycling is quite a popular pastime here, and it is considered a safe city for cycling. The cycling trails span over 60 kilometers, and they run through beautiful areas, including some next to the canal and through the Emscher valley. For a more unique and romantic experience, you can try horseback riding as well. There are many networks of horse trails, where you can explore nature on the back of beautiful horse. There are many places in the area where horses can be rented, too. For indoor fun, try one of the many museums in town, The Museum for Archaeology is considered one of the most innovative museums in Europe.