Juist – The Magic Land
2 matched hotels in Juist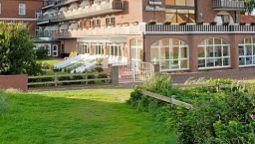 This beautiful and majestic island is known in the low German dialect as Töwerland, which means magic land. Its beautiful and serene surroundings justify this nickname. This island is one of the inhabited East Frisian Islands in the North Sea, and the small town of the same name provides a beautiful and serene resort to explore. This small island is just 17 kilometers long and 500 meters to one kilometer wide, depending on the tide. The island is nothing but sand, and the western end features a large sandbank that looks like a desert. Because tourism is the main economic industry of the island, almost every building has guestrooms. There are no cars allowed, and the sea is within an easy walking distance from anywhere in town, making it a truly tranquil island.
Location: A Tranquil Island in the Wadden Sea
Located at the edge of the Lower Saxon Wadden Sea, a UNESCO World Heritage Site in the southern North Sea, Juist lies between the islands of Borkum, Memmert, and Norderney. The Norderneye Seegatt separates Joist from Nordeney. A ferry takes visitors from the Norddeich trains station and ferry port on the East Frisian mainland, although it only can cross at high tide. There is also an airline to carry passengers anytime, although weather conditions can limit the air service. Residents on the island do not have cars, although some official services do.
Culture: Navigational Aids and Water Supply Become Art
Although most people come to the island for relaxing, there is a musical festival on the island every spring, and there is a crime fiction festival in September. The symbol of the island is the water tower, which can be seen from anywhere on the island. It is located on the highest sand dune, and stands at 13 meters high. It was built in the early 20th century and provides the water supply. On each side of the island stands one of the navaids that help sailors navigate by knowing on which side of the island they are located.
Activities: Perfect Location for Health and Wellness Retreats
The island features a lake called Hammersee, a fresh water lake created in the 17th and 18th century by several storm tides, with the water eventually turning from saltwater to freshwater. During the migration times, flocks of birds come to the large sandbank in the western side of the island, known as Billreef. There can be up to 30,000 birds on the reef at one time, which has made it a natural reserve. It is also a well-known destination for health and wellness vacations with its clean air and beautiful walks and cycle tours.