Spiekeroog – 15 kilometres of perfect beaches
2 matched Hotels in Spiekeroog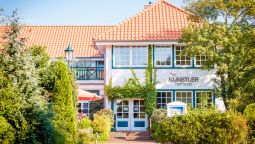 A peaceful island retreat bordered on three sides by dazzling, white sands and surrounded by clear blue seas. It is home to just under 800 locals who mainly work in the spas and wellness centres that attract the 85,000 tourists that visit each year. With just one village on the island, which bears the same name, there is no chance of getting lost when you take a walk out in the fresh North Sea air to view the truly remarkable scenery of this East Frisian gem of an island. It is a semi-wilderness, thanks to the sympathetic planning laws, and has been declared a part of the Lower Saxony Wadden Sea National Park.
Location: A short ferry ride from Neuharlingersiel
The only way to reach the island is by a direct ferry from Neuharlingersiel, or indirectly via Wangerooge from Harlesiel. Cars are left at these small fishing ports and all onward travel is completed on foot, as the island does not allow cars onto its shores, except fire and emergency vehicles. For those not staying in the hotels, pensions or apartments, there are specified camping areas with amenities to the west of the island at the Campingplatz Palisadendiek. It backs onto the soft, white sand that the island is renowned for. During the summer months, an unlikely mode of transport can be used: the quaint, horse-drawn rail service that links the village to the Westend.
Culture: Maritime history and natural beauty
The church on the island is the oldest within the East Frisian Islands and dates back to 1696. Especially interesting is the painting that hangs in the church, which reportedly was salvaged from a naval vessel of the Spanish Armada that became stranded on the sandbanks in 1588. A sombre sight is the Drinkeldodenkarkhof, or Graveyard of the Homeless. The poor souls buried here were lost when the emigrant ship 'Johanne' was wrecked off the coast with the loss of 84 lives.
Activities: Embrace the island haven for peace and quiet
The majority of the visitors spend most of their vacation in the wellness centres and spas that have developed on the island. Many also enjoy the short walk out to the National Park Center Wittbülten, which in the summer months is surrounded by the beautiful purple flowers of the sea lavender. The centre also features an interactive display about the island's history as well as a full size sperm whale skeleton. In the village, is an interesting exhibition of over 2,000 seashells at Kogge House, in the aptly titled Shell Museum.