Varel – A fishing village turned seaside resort
2 matched Hotels in Varel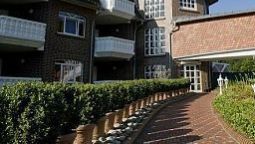 As a small resort town on the northern coast of Germany, Varel is a place where you can find down-to-earth people and enjoy a range of fun-filled activities. Visitors to the area often find themselves in the popular destination of Nordseebad Dangast where the majority of hotels and restaurants are located. From there you will find that Jade Bay is just minutes away and offers the opportunity to take part in water activities like wind surfing, fishing, and swimming. The town is a pleasant place to spend some time and is known for several cultural attractions including two museums and an 18th century castle. During your stay, be sure to enjoy some of the wonderful dining options here, which include some delicious, fresh seafood!
Location: Northern Germany in Lower Saxony
Varel is located in the district of Friesland, Lower Saxony, Germany. Its main natural landmark is Jade Bay, which is part of the Wadden Sea National Park. If flying, the nearest airport is in Bremen, 80 km away. If driving, you can access the town centre via the A29 and B212 motorways.
Business: Tourist resort and fishing village
The economy of Varel relies heavily on the service industry, specifically, tourism. Many of the small businesses in the area are shops, hotels, restaurants, etc., which serve the town's many tourists, especially during the summer months. Varel is also a popular spa destination, which provides iodine-saline baths drawn from a natural well.
Culture: Enjoy museums and historical attractions
The sea is very much a part of the local culture here and is a part of the town's local attractions. The Heritage Museum is a wonderful attraction to learn about local history and the SPIJÖÖK Museum is dedicated to the strong fishing culture. Also, see the Castle Church, built in the 18th century and the Water Tower, which offers great views of the area.
Activities: Many activities on land and water!
As a resort town, there is plenty to do during your stay. The area is a popular camping destination that offers many campsites. To enjoy an afternoon near the water you could sunbathe on the golden sands and go swimming or wind surfing in Jade Bay. Land activities include horseback riding, hiking, mini-golf and more!