What a Tehran hotel offers business guests
2 matched Hotels in Tehran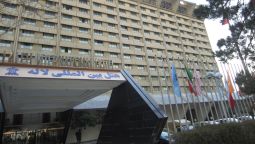 Tehran, the capital of Iran, is known as the 'City of 72 Nations' for its reputation as the economic centre in the region. You'll find nearly half of the nation's industrial companies in the city, with automobile, electronic, and textile manufacturing being among the largest industries. The government and finance sectors employ most of the remaining professional workforce, and the Tehran Stock Exchange is one of the world's best performing stock exchanges. The city attracts many visitors looking to enjoy the region's culture and visit its nearby ski pistes. Booking a hotel in Tehran for business allows you to see everything this central hub of commerce has to offer.
What makes Tehran an attractive destination?
A large metropolis with towering skyscrapers, Tehran sits at the foot of the Alborz mountain range. The city boasts a striking, unique skyline and an enormous grand bazaar, with thousands of traditional shops and stalls selling everything from local spices to luxury clothing and jewellery. Abbas Abad is one of its core business districts, with many large corporations based there. The Milad Tower, near the Gisha shopping area, is part of a complex known as the International Trade and Convention Centre of Tehran. The complex also houses an IT hub and financial trading centre.
What are some of the big business events taking place in Tehran?
Mining and oil are significant industries in Tehran, and attract many workers from around the country and internationally. The International Exhibition of Decorative Stones, Mine, Equipment & Machineries, Elecomp, and the Iran Oil Show are just some of the many events taking place in the city. As Tehran has one of the highest numbers of car users per capita of any city globally, the automotive industry is another large sector. The Auto Parts International Exhibition also takes place in Tehran annually.
Where can I go after work when I book a hotel in Tehran?
Of course, Tehran is an excellent place to learn about Iran's fascinating history. Rashkan Castle, the Mausoleum of Ayatollah Khomeini, and the historic Baharestan parliament building are some of the city's highlights. In the nearby mountains, you'll find Lar National Park, as well as excellent ski resorts including Shemshak, Tochal, and Dizin, which are popular with professionals enjoying their downtime. Make sure to venture out of your Tehran hotel to see all the area has to offer.