Why choose a Rümlang hotel for my business trip?
2 matched Hotels in Rümlang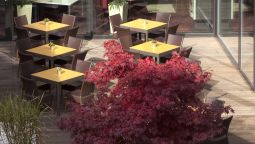 If you are looking for a peaceful and exceptionally well connected location, a hotel in Rümlang is the right destination for you. This quiet village is just a stone's throw from Zurich International Airport and a 13-minute train ride from Zurich city centre, making it an ideal base for any business trip. The hotels in Rümlang are well equipped for conferences and meetings of all sizes, and many offer a free-of-charge shuttle service to and from the airport.
What can I expect to find in Rümlang?
Hotels in Rümlang are clean, comfortable and offer the highest standards of Swiss hospitality. Many hotels in Rümlang boast well-equipped conference rooms with internet access and catering options. Some have swimming pools and gyms for after-work relaxation and exercise. The airport itself offers conference facilities too, including a visitor room with impressive views of the aeroplanes as they take off and land. Whether you are organising a presentation, conference, evening aperitif or any other event, you and your colleagues will find everything you need within easy reach of your Rümlang hotel.
Which business events are on in the area?
The area around Zurich airport is a hotspot for trade fairs, conferences, shows and exhibitions and you will have easy access to all of these from Rümlang. The village is also just a 10-minute drive from the Hallenstadion Conference Centre, which offers seminar and meeting facilities and is the ideal place to meet with colleagues or business partners from all over the world.
What can I do during my free time near my Rümlang hotel?
There are several restaurants in Rümlang and various scenic walking routes, giving you the chance to get out and enjoy some delicious food or fresh air between meetings. The nearby Katzensee lakes are beautiful all year round and perfect for an outdoor swim in summer. Regular buses and trains will take you to Zurich city centre, which is less than 10km away. There you will find countless opportunities to relax and explore. After a long day of work, you might like to indulge in some retail therapy in the famous Bahnhofstrasse shopping street or treat yourself to some pampering at the Zurich Thermalbad & Spa with its open air rooftop pool.